LL Cool J Brings Out Canibus To Perform '4, 3, 2, 1′ At Barclays (Video)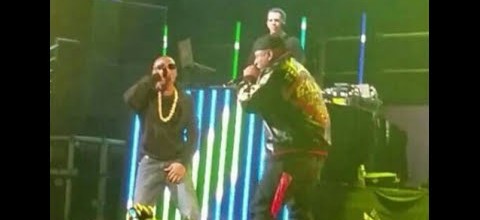 The Christmas in Brooklyn event presented by WBLS and HOT 97 is currently going down at the Barclays Center featuring performances by Run DMC, LL Cool J, DJ Z-Trip, Lecrae, K. Michelle and Diggy.
But moments ago, something rare and legendary happened when LL took the stage. Apart from bringing out Raekwon and Troy Ave as special guests, he shocked the live audience by inviting his old time rival Canibus. The duo performed the controversial track '4, 3, 2, 1′ together, the same track which ignited a beef between the two MCs back in 1997.
If you're not sure about the history behind their beef, here's a brief rundown:
On the song, Canibus rapped the following lines "L, is that mic on your arm? Let me borrow that." which was a reference to LL's microphone tattoo. But the Queens rapper took offense to it and hit back at Canibus on the same song. Before the song was officially released, LL asked Canibus to change his verse and he agreed. In return, LL promised to change his verse too but the version that came out featured LL's original verse where he was dissing Canibus.
People weren't sure what really happened behind the scenes but a heavy beef ensued with Canibus dropping a diss song 'Second Round K.O.' and LL coming back at him with 'The Ripper Strikes Back' and 'Back Where I Belong'.
Posted by : Mista Bless Also Follow me on Twitter @mistabless for more updates
Comments