Jadakiss On ESPN First Take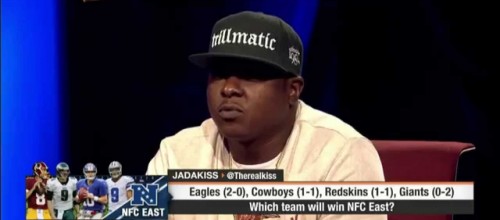 Jadakiss is the latest rapper to stop by ESPN's 'First Take' show to discuss the latest in sports with Stephen A. Smith, Skip Bayless and Cari Champion. Being a New Yorker, Kiss spoke on his New York Giants and who he thinks will win the NFC East, but surprisingly, he's got his home team Giants finishing last. But hey, it's only week 2, so we'll see what happens. In addition to that, Jada spoke on the Mayweather-Maidana fight that took place last Saturday and if he thinks Floyd will ever fight Manny Pacquiao.
Hit the jump to see the rest of the interview.
Posted by : Mista Bless Also Follow me on Twitter @mistabless for more updates
Comments